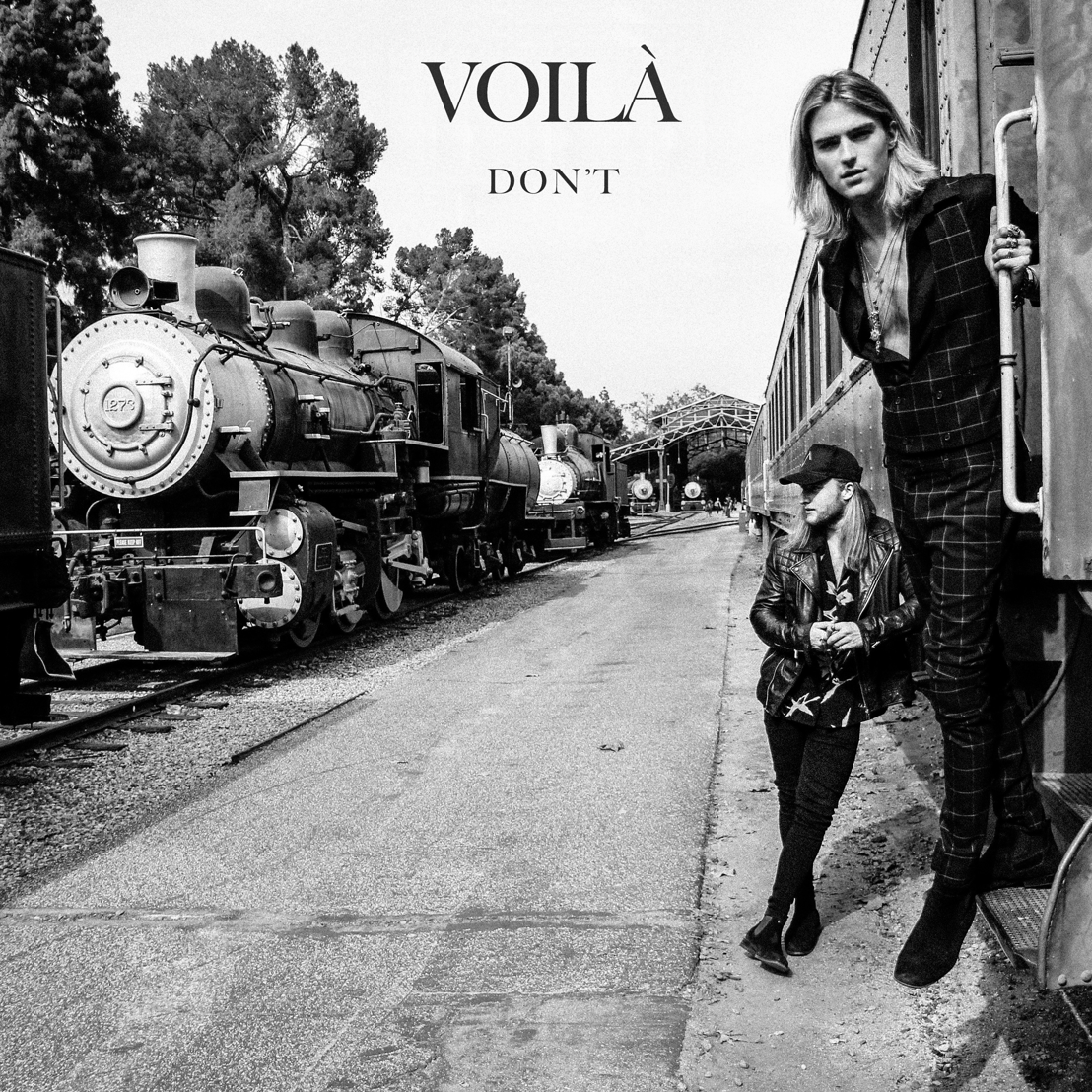 LA-based pop duo VOILÀ Release New Single: Don't
Top 20 on Spotify's New Music Friday
Friday, November 9, 2018 — Stream "Don't" on all platforms HERE
LA's most promising young act, VOILÀ, have today released their brand new single: "Don't". "Don't" is one of the leading tracks off the duo's self-titled debut album coming in 2019.
("Backed by previous support from Billboard, Pandora and BBC Introducing, VOILÀ's "Don't" received it's exclusive radio debut this week on BBC Radio")
VOILÀ consists of Luke Eisner and Gus Ross, who met at the Thornton School of Music at USC in LA. Luke, from small-town Wisconsin, is also a successful male model (having done campaigns for Ralph Lauren, Calvin Klein, American Eagle and H&M and having featured in fashion outlets like Vogue & GQ). Gus is an Englishman who previously attended the prestigious Eton College and used to sing big band jazz in London's West End.
Since leaving college this past spring, VOILÀ have put together quite a prolific team of industry juggernauts. Ty Stiklorius of Friends At Work is their manager (John Legend, Ryan Adams, Alanis Morissette), Josh Binder is their lawyer (Kendrick Lamar, SZA, Marshmello) and Jonathan Adelman is their agent (Ed Sheeran, Lorde, Louis Tomlinson) - so it's fair to say that the industry is lining up to champion VOILÀ.
The duo have opened for artists like Ke$ha, The Fray and X Ambassadors this past summer and are currently prepping for their November/December shows in Los Angeles. With a debut album & their first ever tour on the horizon in 2019, it's clear the future is bright for one of the most authentically talented boybands to emerge in recent memory.
"Don't" is a refreshingly acoustic pop tune that speaks to the inevitable dark turns of a young and reckless romance. Even when we know it's time to move on, we sometimes.. well.. Don't.
Gus, VOILÀ's lead vocalist, put it this way: "I can't control who I fall for. I can only acknowledge and embrace the sensation of wanting what I know full well isn't good for me."
Luke, VOILÀ's lyricist and natural-born poet, had a similar, albeit more introspective take:
"Growing up, there was this willow tree in my front yard. I would always try to climb it, but it was tough. My parents would yell at me and say I was going to get hurt, my friends would say I was wasting my time, and I still have a scar from falling. But, what they didn't know is that when you got to the top you could see the most beautiful view. A view that made you forget every reason you hated the climb. I fell in love with a girl that was like that willow tree."
VOILÀ have a showcase at The Moroccan Lounge in LA on November 11th. Tickets here
Don't was co-produced & co-written with INFRARED (Lewis Capaldi, Charlotte Lawrence). Mixing duties were handled by Dave Emery (James Arthur, Coldplay, Duran Duran, Niall Horan, The Killers, Dave Matthews Band, Elbow, Madonna, Keane, Arcade Fire, Gwen Stefani, Maroon 5, Björk, Snow Patrol, U2, Pet Shop Boys,Rudimental, Take That, Rita Ora, Charlie XCX, Liam Gallagher)